A Cinco de Mayo party will only be complete when you serve authentic Mexican food such as quesadillas, which make the perfect appetizer and entree. Since I bought a fantastic quesadilla maker from this equally fantastic site, I have been able to enjoy quesadillas when I want to without the need to go to a taqueria where taco and quesadillas are on the menu. Now, I can always have quesadillas when I want to. I am constantly on the lookout for traditional quesadilla recipes. My patient searching led me to this fantastic traditional Mexican recipe that I would really like to try out.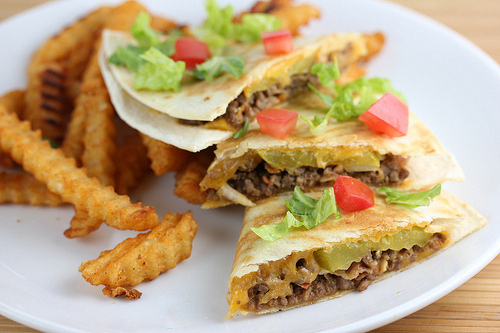 It's a steak quesadilla recipe that is cooked differently from what taquerias use. Most taquerias that serve steak quesadillas grill the steak with large onion slices prior to chopping both ingredients finely. On the other hand, this recipe instructs you to chop the steak and onions first so it can be more convenient and much faster to make at home. This recipe is perfect not just for Cinco de Mayo parties but also for dinner enjoyment when you want to eat something different and there's not much time on your hands to cook. It makes a great option also that you can prepare a day ahead to offer as an appetizer that you simply reheat during the party. It is a great way to use leftover grilled meat.
The recipe calls for: finely chopped white onions; some sirloin, fajita or rib eye steak, finely diced; some spray on fat or oil for the quesadilla maker; salt and pepper for seasoning of the meat; flour tortillas; some Oaxaca cheese. You can add some garnishes that may include any of the following: pico de gallo salsa; guacamole or avocado slices; Cacique Mexican Cream; lime slices.
Heat a skillet over medium heat, add some vegetable oil and when the oil is hot, put in the chopped onion and saute for around two minutes. Season the chopped meat with salt and pepper and add that to the skillet, cooking until browned for around six minutes. Set aside.
Simply heat the quesadilla maker and once heated, apply some spray-on fat to the cooking surface. Place a tortilla on the cooking surface, put some of the cooked meat and top with the cheese, making sure the cheese is separated into strings. Top with another tortilla and close the quesadilla maker, pressing gently to seal. Wait till the quesadilla is cooked nicely and golden brown, about 4 to 8 minutes average. If you don't know how to choose a quesadilla maker, I recommend this website.